multi-path mitigation
Solve multi-path problems. Our multi-polarized antennas are designed to eliminate multi-path by transmitting and receiving signals in numerous polarizations and on spatially diverse planes.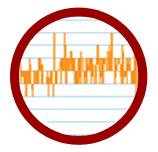 Increased Data Throughput
With the highest efficiency on the market, our multi-polarized antennas provide your system the most consistent signal possible, eliminating jitter and slow throughput speeds.
Maximum Diversity
MP Antenna is the antenna manufacturer with the most advanced antennas on the market. Our antenna products feature patented three-dimensional designs and built-in spatial and polarization diversity on every feed.